These rings are the optimal combination of accessibility and safe seal.

This is especially true for submarines with circular frames. All equipment is mounted on a frame that is slid into the bow part of the hull. The shorter stern part has the motor and servos fix mounted.

The bayonet ring pairs from 88 - 106 mm OD are CNC machined and very precise. The o-rings are extra soft to reduce friction.
available diameters (OD / ID):
| Outside Ø | Inside Ø | fits for | price |
| --- | --- | --- | --- |
| 75 | 62 | Klasse 212 1/100 | € 75,- |
| 88 | 74 | Tümmler,"Alpha 1/100" | € 70,- |
| 99 | 88 | "UB1","Seahorse", small Ballfish | € 75,- |
| 107 | 95 | Schürer | € 85,- |
| 116 | 104 | C-Class | € 85,- |
| 130 | 116 | "Ballfish" | € 90,- |
| 144 | 128 | "Hajen" | € 98,- |
Special-edition for robbe submarines :

€ 75,-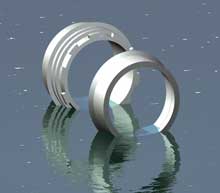 delivered: outer ring, inner ring, soft o-ring, instruction