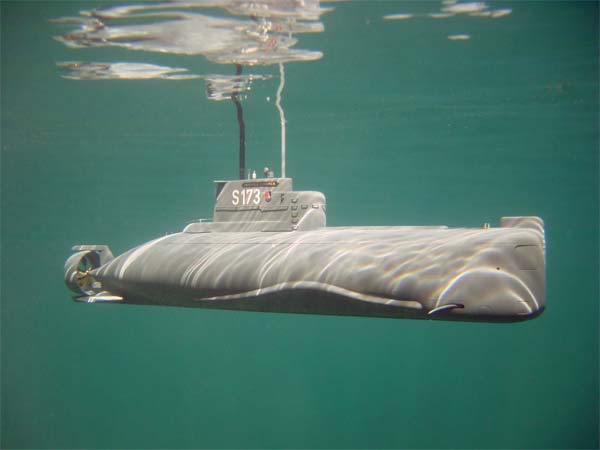 The original was designed in 1961 as test carrier for a new sonar system. It is only 23.1 m long and its water displacement is approx. only lO0 tons. Despite its useful cruising qualities, both the exposed bridge as well as the very confined interior caused it to be put out of service and scrapped after only one year. Back then, this faulty design cost the taxpayer DM 30 millions.

The model is built in scale 1:32. With its length of 722 mm and a weight of 4 kgs it is actually quite handy. Nevertheless, the installation of a remote control of normal size is no problem at all because of the hull's unusually large width of 107 mm. The defects of the original are of no concern to the unmanned model which is handy and easy to manoeuvre. The glasfibre set consists of 3 segments of the hull made of epoxi/glass fibre cloth. The depth planes,,(Duux-) sonar dome and Kort nozzle are made of resin. Original plan included.

Suggested equipment:
piston tank 200 ml, main battery 12V 2,8Ah, motor ca. 5-20W for 4,2 km/h of correct scale-speed.
price
parts as shown: € 195,-
availible assecories:

Bajonet lock ring (size as robbe-Uboote, can be fitted)

€ 75,-

Motorunit 500 (with Motor Scale600/4000 and modified frame) € 45,50
servo frame

€ 7,50

Ballastsystem Gummisack-peristaltic pump € 127,50 or

piston tank 500ml EA 6V(has to be cut) € 152,16 plus BTS € 44,-