DeepRover DR1002
Flying helicopter under water!
That's what pilot and observer in this submersible must feel like. And this at a depth of 1000 m in the pitchblack deep sea.
A great article by Carsten Heintze can be found in SchiffsModell march 2008 and february 2009.
More pictures and info at Diveteq.de
25.2.2009 on DMAX - Die Modellbauer (pictures)
---
main dimensions
scale: 1:
1
8
length [m]:
3,3
0,43
width[m]:
2,5
0,33
higth[m]:
2,5
0,33
displacement:
6,3 t
9,1 kg
motor power:
4x 3,75 kW
4x 18 W
light power:
4x 450 W +
4x 150 W =2,4 kW
4x 0,1 W + 1x 3 W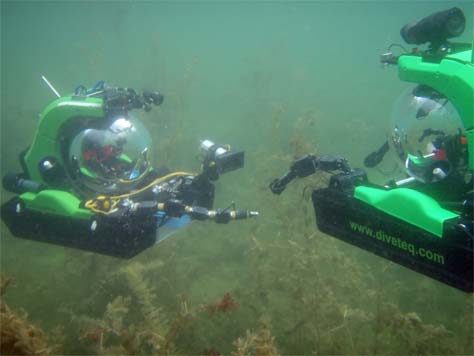 We can offer a part kit for this unique model. This will enable the experienced modeler to build an astonishing model without much working on the parts. If as static display or brought to life with 4 brushless motors, the result will be an eye-catcher. Look at some pictures of work in progress.
---
prices:

parts kit
containing PMMA sphere ø200, aprox. 490 CNC-milled PS parts  (6,5 kg !), Aluminium pipes, 11 cast resin parts 

        plan, pictures of building stages
  € 475,- 

possible equipment:
4x BLDC inrunner motors ø20mm, 600 Upm/V, waterresistant prepared € 75,- each 
  (alternatively we can supply IL-2040 for € 24.- + 6 € stainless ballbearings + modification intrictions)
4x BLDC ESC, reversible "Robustregler EC 1,5A" € 35,- (or robbe roxxy 908)
2x battery 12V 2,2Ah Panasonic á € 23,50
magnetic switch € 26,-
6x watertight connector 3pol á € 8,50
receiver alpha-8.40wW € 65,-
screws
LED
 
---
The video clip shows the under water manoeverability: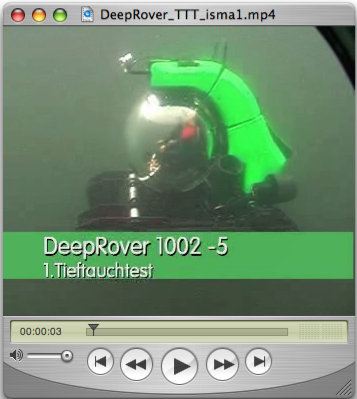 DeepRover_DeepDiveTest.mp4 (3,7MB)